Description
Covid-19 IgM IgG Rapid Test kit
Covid-19 Sars2-cov 2019 nCoV IgM IgG Rapid Test kit Result 10 minutes
Order MOQ 10K Tests
Price: Contact for quote, depending on order QTY
CE certified FDA Listed 
Production capacity: 500K kits/day
Packaging option 1 each kit is individually packed with 20 tests
20tests/kit box*68kit boxes = 1360Pcs/ctn
  CTN Dimension: 66*36*56.5CM  GW: 17KG
Packaging option 2 (saves space and hence shipping cost)
1000pcs/ctn   individual kit boxes are included but not packed. Need clients to package on their own at destination
CTN Dimension:  66*36*28CM   GW 10.3KG
As the virus spread in Wuhan, Chinese researchers developed a more rapid "point of care" screening test, – known as the COVID-19 IgG/IgM Rapid Test Kit, which detects antibodies that emerge some time after Covid-19 symptoms appear. A study in the peer-reviewed Journal of Medical Virology said the test could return results within 15 minutes, much faster than the current standard testing.
The test kits are rapid chromatographic immunoassays (configured like a home pregnancy test) to detect IgM and IgG antibodies to COVID-19 SARS-CoV-2 in blood, which is the cause of COVID-19. IgM antibody generally begins to rise within 1 week of initial infection. IgG appears about 14 days after infection. According to the March 16 FDA Guidance, antibody blood tests of this nature are "less complex" than the nucleic acid testing that the CDC and laboratories throughout the U.S. have been running since the start of this emergency.
Advantages of these types of tests, approved by the Chinese FDA and compliant with medical device regulations in Europe, include the following:
Rapid results (under 15 minutes)
Accurate: High sensitivity (~97%) and specificity (~92%)
Well-validated on numerous cohorts in China
CE approved and widely used in many European countries
Whole blood testing likely remedies some false negatives inherent in respiratory swab samples
Low cost
Ease of use; no need for laboratory personnel, equipment or sample transport
Can be easily mass produced to over 500,000 per day
Instructions for Running a Test Covid-19 IgM IgG Rapid Test kit
Allow the test cassette, specimen, buffer to equilibrate to room temperature (15-30°C) prior to testing.
Remove the test cassette from the sealed foil pouch and use it as soon as possible. Best results will be obtained if the assay is performed immediately after opening the foil pouch.
Transfer 10 μL of serum / plasma specimen or 20 μL (1 drop) of whole blood specimen to the sample well, then add about 80uL (about 2-3 drops) of buffer and start the timer.<
Wait for the colored line(s) to appear.
Read the result at 5-10 minutes.
Do not interpret the result after 15 minutes.
INTERPRETATION OF RESULTS Covid-19 IgM IgG Rapid Test kit
All test controls should be examined prior to interpretation of patient results. If the controls are not valid, the patient results cannot be interpreted.
INTERPRETATION OF RESULTS (Please refer to the illustration).
IgG POSITIVE: *The colored line in the control line region (C) appears and a colored line appears in test line region IgG indicates that COVID-19-IgG antibody was detected in the sample.
IgM POSITIVE: *The colored line in the control line region (C) appears and a colored line appears in test line region IgM indicates that COVID-19-IgM antibody was detected in the sample, and is indicative of primary COVID-19 infection.
IgG AND IgM POSITIVE: *The colored line in the control line region (C) appears and two-colored lines should appear in test line regions IgG and IgM. The color intensities of the lines do not have to match. The result is positive for IgG & IgM antibodies.
NEGATIVE: The colored line in the control line region (C) appears. No line appears in test line regions IgG or IgM.
INVALID: There is no line appear in the control line region (C).
IgM IgG test is very fast and much more accurate than RT-PCR (Swab test) . Result is returned within 10 minutes. No equipment required.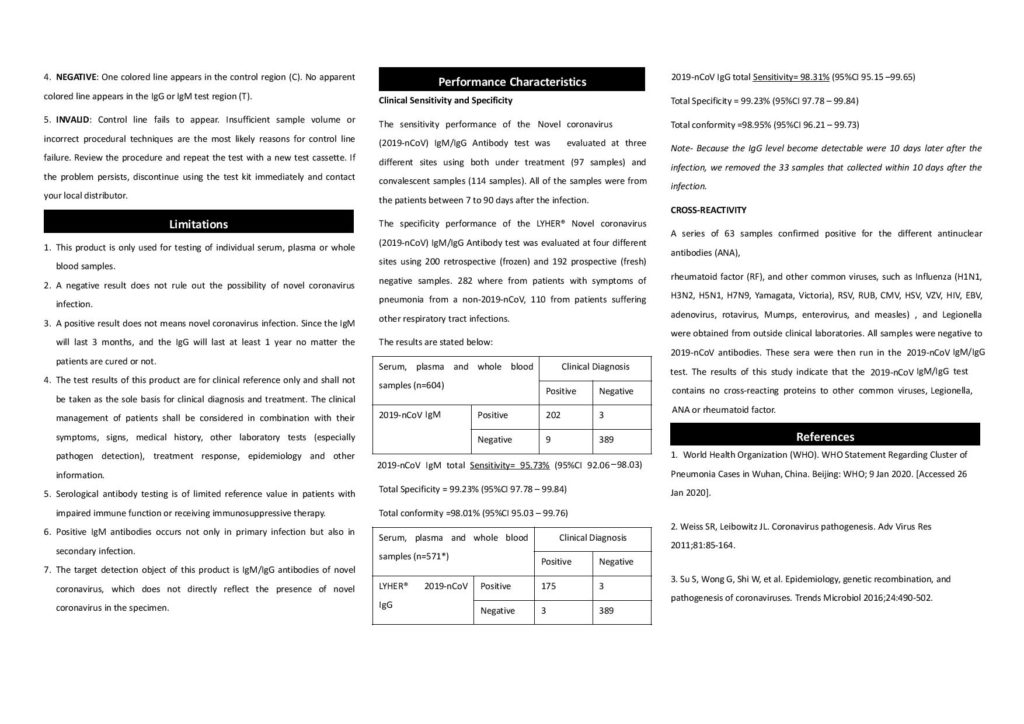 IgM IgG vs RT-PCR      Why use Covid-19 IgM IgG Rapid Test kit?
| | | |
| --- | --- | --- |
| | COVID-19 IgM/IgG Ab Detection | RT-PCR Detection Methods |
| Principle | Detect antibodies in blood | Detect RNA in swabs |
| Sample type | Whole blood/serum/plasma | Throat swab |
| Sample collection | Whole blood collection is a routine operation, and serum is convenient for long-term storage. | Need to be collected by professionals, and must be transported to a professional laboratory for testing. Swabs cannot store for long time. |
| Testing procedure | Easy. Just need 20 µL blood or 10 µL serum/plasma and 2 drops of buffer. | Complicated.Need nucleic acid extraction (40 min) and RT-PCR (60 min). |
| Detection time | <15 min | >100 min |
| Cost | Low | High |
| Positive detection rate | >95%After window period of infection, the method has a high detection rate. | <90%Due to the possibility of low nucleic acid content in the pharyngeal swab, improper sampling technique and possible problems in sample transport, etc., it is easy to cause false negative results. |
| Clinical significance | IgM, as the earliest antibody, appears within 3-5 days after the virus enters human body and can be used for early screening of suspected cases. IgG is an antibody produced in the middle and late stages of infection, its positive indicates that the patient is in recovery or has a previous infection. IgG concentration in the convalescent period was 4 times or more higher than that in the acute period, which can be used as an indicator of convalescent period, and can be used for disease course monitoring and retrospective diagnosis of patients with COVID-19. | Just used for determine the presence of COVID-19. |
Precautions On The Handling Of Sample And Lab Waste of Covid-19 IgM IgG Rapid Test kit
This kit does not contain any contagious materials, it is safe to ship/use under normal situation.
All samples are contagious, please handle carefully according to local regulations, or following the guidelines of your local CDC or WHO.
Used test cards shall be handled carefully as biolab waste, which shall be treated carefully according to guidelines of CDC/WHO.
Limitations Of This COVID-19 IgM IgG Test Kit
This kit is used as aiding tool for the testing of COVID-19, which shall be used in combination with RT-PCR/CT scanning. The results shall be determined by professionals. It is not a home use test. Before licensed by CDC, in the US, this kit can only used as research tool, which can not be used in clinical diagnosis of COVID-19.