Yiwu, China
About Yiwu China
 Yiwu, Chinais located in the central area of Zhejiang province with a total land area of 1,105 square kilometers. The whole city governs 8 towns and 5 subdistricts, with a population of 670,000 registered as local residents and 600,000 as temporary resdients from other cities and provinces. Yiwu has a long history.
Back in the 25th of Ying Zheng of Qin Dynasty (B.C. 222), it was under the administration of Wushang County, in the 7th of Wu De of Tang Dynasty (A.D. 624), and the name was then changed to Yiwu, in 1998, when it was first established as a City.
Yiwu China Map, Map for Yiwu Zhejiang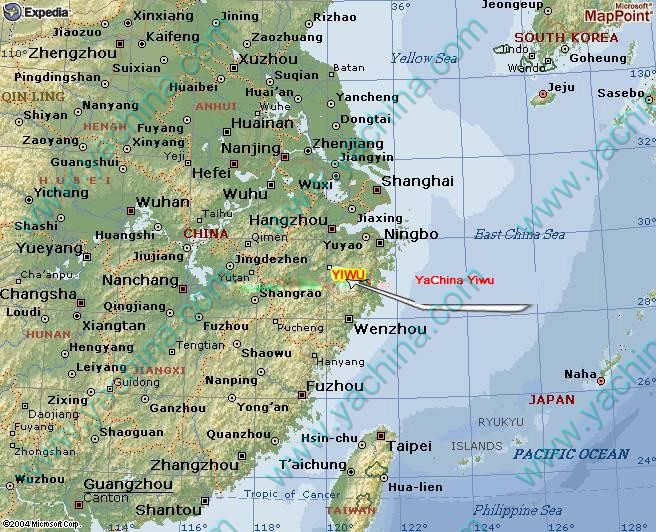 Since the reform and opening policy, Yiwu has resolved to taking advantage of the trade industry as a leader to drive regional economy. It become a large trade city and a strong economy from a traditional agricultural small county. In 2002, the whole city realized a domestic gross value of production of RMB15.6 billion Yuan and a total financial revenue of RMB1.66 billon Yuan.
Click For more yiwu maps and yiwu market layout maps.
In 2001, the Yiwu general economic ranked 19th of all counties (cities) of China. Currently, It is one of the regions with the most development activities in Zhejiang. Even in the whole country, It has successively gained such honors as being the National Technical Project Advanced City.
  Today, Yiwuis a prosperous international trade city with active markets, booming economy and stable society. The trade industry has been leading the trend in the regional economy. Currently, the Yiwu commodity market possesses an area of 1.5 million sq.m. with 40,000 stores/stalls. It covers 28 categories and about 400,000 varieties of daily consumer goods. Throughput is nearly 10,000 tons. The market business volume ranks the top of the nationwide large special markets for 12 successive years. It has become THE wholesale market of China, and even the world.
Yiwu market has been an international commodity distribution center and the important base for foreign merchants and buyers. The industrial economy is rapidly aggregating and strengthening. It currently has developed and is exploiting industrial park areas of 64 square kilometers, with more than 1300 enterprises.
It has also cultivated a group of predominant industries, and household brand products of socks, ornaments, zippers, cosmetics, shirts, cultural articles, pen-making, toys, jewelry (jewelly, jewellery) etc. A large group of provincial and civil key projects are under construction, such as Xiuhu Square, Meihu Exhibition & Sports Center and Yiwu section of Hangzhou-Jinhua-Quzhou freeway. The urban area of the city has expanded to 38 square kilometers, and the city population has increases to 430,000.
Dedicated to becoming the largest global supermarket and an international shopping center, Yiwu is overcoming obstacles and surmounting technical difficulty, and endeavoring to move forward.